It has been getting mighty chilly down here in Tasmania – much different than what we are used to in SE Queensland (though I hear it's been cold there too recently).  Most mornings the water in the pipes is frozen and the car is glazed in a layer of ice.  Not that this is a problem for the dogs (Levis in particular who just sleeps in until the sun warms things up) as we haven't had many adventures recently.  The Winter snow arrived late and very briefly so they are yet to get their first experience with the cold white stuff.  Hopefully there will be some more soon and we can make the trip to one of the mountainous regions for a scrunch in the snow; on lead of course or we might lose little Isabella!
But as I said, not much has been going on in Tassie for us.  We hope to have our first official Basenji play date with another ex-mainlander and her dogs in the next few weeks.  Exciting stuff!!  And mid-August we will be moving north past Launceston to a seaside town where hopefully things will be a little warmer and more active.  I think the Basenjis are going to love it.
I guess to round off the B-Blog I can share a picture of our first "Budget Basenji" job – dog coats.  We have our good dog coats for going out in the cold (which we have never really had to use) and then there are the home coats.  I had scoured some cheap stores for the comfy knitted ones but just couldn't seem to find any so I thought I would make something up myself…a challenge for someone with no sewing or knitting skills at all!
Since Levis has a habit of eating the neck out of any clothes you put on him, they had to be cheap and disposable.  I had an old pair of track pants lying around which the elastic was well beyond stretched in and as I was getting ready to dump them, an idea struck me.  Why not just cut the legs off, pop two holes in them for Basenji legs and I would have two dog coats!  So I did!!  😀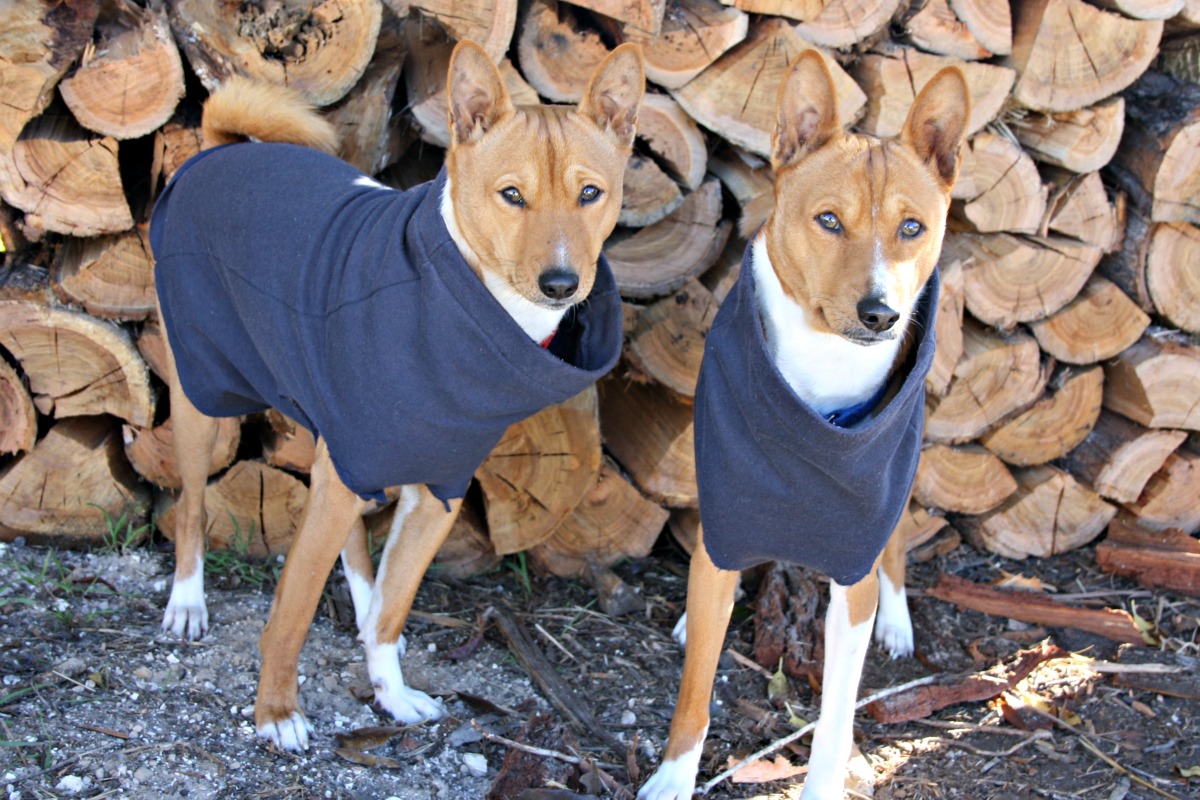 This picture is from a second pair I made out of Op Shop track pants which were a little smaller in size and fit the boys better.  Later I tidied them up around the legs and made an exposed belly area for their boy bits, but other than that they were cosy and comfy no-sew dog coats which cost me about 30 cents each!!
Baroos to you!