Another cold and rainy day here in Fingal, Tasmania.  The dogs have been pretty well behaved, sleeping mostly and "helping" me fold washing on the bed so I thought I would see if I had enough of anything tasty in the pantry to make some dog treats.
This recipe is from my favourite healthy dog treat websites, Doggy Desert Chef (you may remember our Peanut Butter Bagels from a few months ago) and was originally made with blueberries.  I didn't have any of those but did have a packet of dried cranberries on hand.  Cranberries are rich in vitamins A, B1, B2, C, and various nutrients, minerals and antioxidants.  They are also an excellent addition to your dogs diet for the promotion of urinary tract health.  Bananas of course are full of goodness as well, like potassium and pectin which aids digestion among other things.
Anyway, here is the recipe!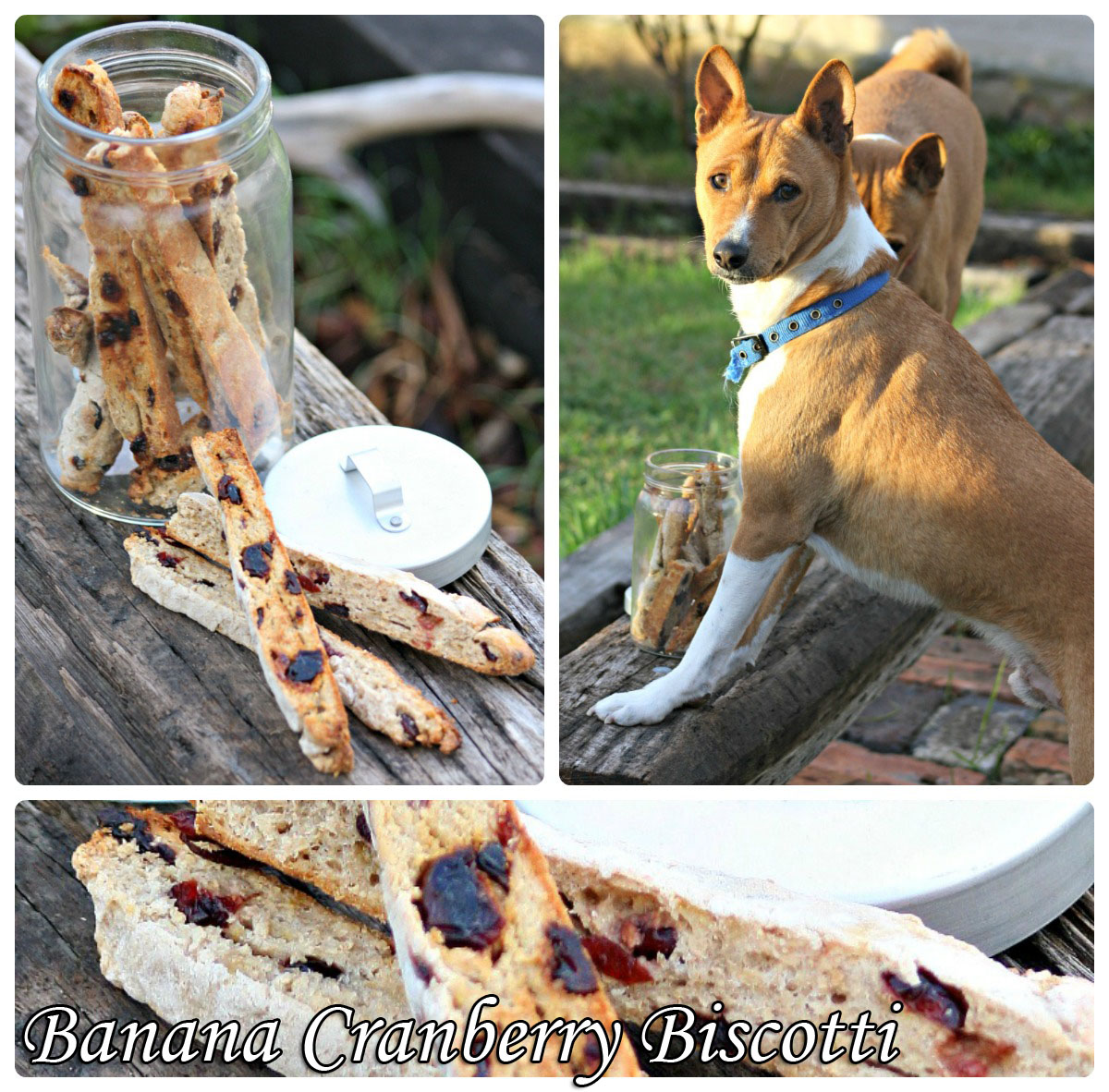 Ingredients
2 Bananas, mashed
1/2 cup Cranberries
1/2 cup Milk
1 tablespoon Flaxseeds
1/2 teaspoon Baking Powder
1/2 teaspoon Cinnamon
2 cups Spelt Flour
Directions
1. Preheat oven to 200 Celsius and line a tray with baking paper.
2. Combine the dry ingredients flour, baking power and cinnamon, stir until well mixed.
3. Add bananas, berries, flaxseeds and milk to the dry mix and knead until all ingredients are well combined.
4. Form dough into flat logs about 6 inches wide and 1 inch high.  Bake for 15 – 20 minutes.
5. Remove from the oven, allow to cool for 10 minutes then cut logs into 1 inch slices.  These smell yummy!
6. Place the slices back on the baking tray and bake for a further 15 minutes until the slices are dry and crunchy. Allow to cool.
Makes 1 to 2 dozen biscotti.
I may have cut mine a little thick but the dogs truly don't care.  These are a big hit!!  Happy baking.